Why do people say I am crazy? I have been told year after year that I am "
one crazy sonofabitch
" or "
un maldito loco
"! I am serious too. Every single time I meet up with Elegal or Eleri or Manu I will always here "
maldito loco
" right between their laughters to something I have done to make them laugh. Other than that there are some variations though... like "
maldito payaso
" "
maldito greñú
", "
maldito...
" Apparently what we all have determined is the following, I can be anything but what is sure is that "
maldito
" i am.
In fact if you look at all the comments you yourselves have put in this blog you will notice most of you tend to say I am one crazy s.o.b.
...this got me to thinking...

...don't be scared...
...it's ok...


I was looking over some pictures of mine and I have decided to leave it up to you to analyze my state of mind. I have several pictures that need som analysis.
[Exhibit A]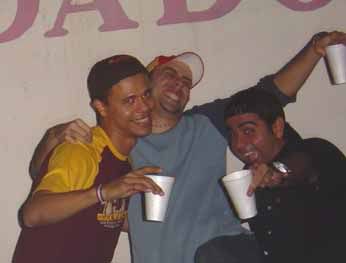 [Eleri and Manu might kill me for this one]
What exactly is happening here? Nosotros le decimos a ese sitio BORDADOS porque ese muro atras dice "Bordados." Bordados is not exactly an actual bar. It's a parking lot. Then again we always take pictures by it. But what is so amusing here? Why am I so excited? What is wrong with Eleri? Who am I pointing at? Why the face?
[Exhibit B]
Ok. This one seems to "take the cake" as Moreno would say! Me acuerdo que caminabamos por la calle y vimos esta piedra. Simplemente la vimos. That's all. A normal rock. In the floor. Doing nothing. Being... being a rock!!! Pero algo dentro de mi dijo "

esta piedra es especial

" y por eso nos tomamos una foto con ella. Creo que le alegramos el día. Moreno la levanto y yo le deje saber que she had two thumbs up on my account!
[Exhibit C]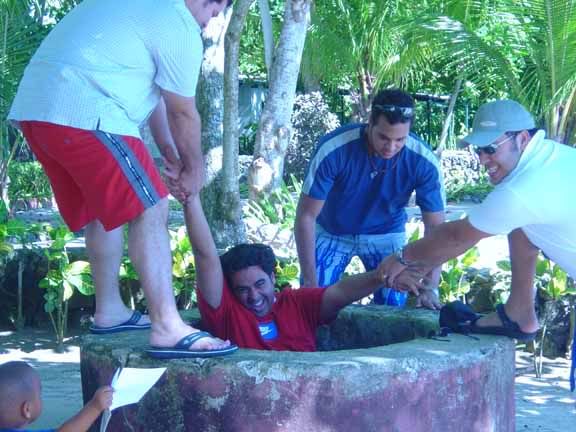 I was slimpy walking along Rosangela's house. I saw this hole. Not a big hole. Just a hole. I got into it and sat down. Yes. I am sitting DOWN in this picture. No tuve que decir nada. Automaticamente Moreno, Vicz y Andrew entendieron el chiste. Sacarme del hoyo donde aparentemente estaba cayendome y me iba a morir. The picture was doing good. Then this little kid, he's in the corner, tried to show us instructions on how to rescue someone from a bottomless pit. Moreno figured he and his black ancestors had better ways and started to look for leaves to make rope I would guess. I dunno. It's the BlackGuy.
[Exhibit D]

This was hilarious. It was all bubbly. Tire un exceso de bubble bath al jacuzzi y despues decidi que una botella de vino seria apero. Agarre mi botella y empeze a beber ahi en el jacuzzi todo solo a las 7:53am el primero de enero. Todas esas burbujas. Lo mejor es que ya para ese tiempo las burbujas que se me habian metido en la boca tenian mi lengua dormida. Yo no sentia nada, todo me sabia a burbujas. Asi que esa botella era mas por beber que nada. Still. It's me.



[Exhibit E]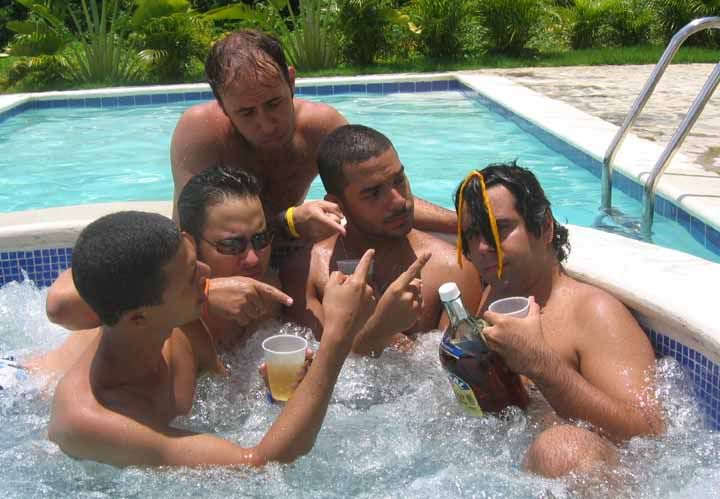 I ... I ... I have absolutely nothing to say about this one. I mean. I don't know what was wrong with me. I have no idea why this happened. I don't even know when this happened. Really. No idea. It's up to you.



[Exhibit F]




[Toad from Mario Brothers]
This one has to be my favorite one. I personally love this one. Eso es una hielera flotante. Con 6 portavasos. Yo llevaba un rato mirandola. Mirando y mirando. Quite los vasos. Bote el hielo. Mire hacia mis alrededores y me lo puse de gorro. Cuando veo que ya alguien iba a decir "
maldito loco
" yo empeze a cantar la cancionsita de MarioBrothers. "
Tarata-tarata-ta!!! Mira soy honguito de Mario! Soy honguito!
" y segui bailando a la cancionsita. I personally think this one is the best one.
--------------------------------
For now I believe this is all I have to demonstrate. So? What do you think is your decision? What went wrong? What is wrong? Hmmm. I think I am perfectly normal... ;)
Farewell! Til next time!