Ok ... Lo digo desde ahora. Esto no tiene nada que ver con el
Merenguazo Presidente
... Esto, en tal caso, es nosotros haciendo algo completamente
ANTI
eso. Decidimos todos que no ibamos a gastar nuestro dinero en porquerias que no valian la pena y que mejor nos juntabamos todos y haciamos algo los tres dias. Well ... that we did.
Materials :
1 Pentalitro de Brugal Añejo
1 Botella de Kahlua
9 Naranjas Dulces
13 Shotglasses
10 Vasos de Foam
1 Doble Litro de 7Up
1 Doble Litro de Coca-Cola
1 Funa de Hielo
Empezamos el viernes con la compra de un pentalitro, el hielo, los vasos y los doble litros. Jalamos para casa de Joselo "El Tullio" donde Eleri nos enseño a todos como usar un abanico.

Empezo la bebedera y despues al
Manu
se le antojo una pizza de Pizza House. Jalamos para alla pa poder comer pizza de club! Tando alla me llamo el
Czar
para decirme que andaba con
mi hijo
y le dije que jalaran pa'lla. Despues de la jartura e pizza decidimos que para q mudarnos si podiamos kedarnos ahi mismito en Plaza Fernandez en el parqueo.
Teniamos to lo necesario!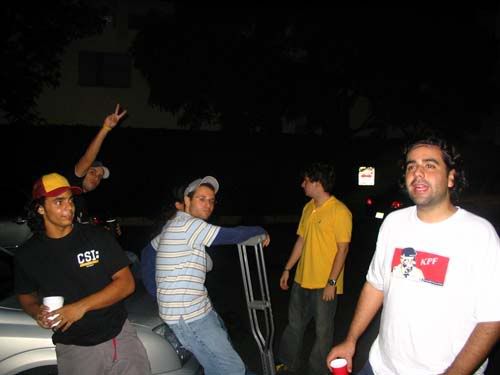 Ahi hasta se actuo! Con Eleri y
Manu
actuando como todas las personas de noticieros y programas de la Republica Dominicana entera. Eso fue una risa hasta riendome de los que yo ni sabia que existian! Na ma me kille con una jeepeta ahi q si tu la tocaba se diparaba la alarma. emmm esa mima q ta alli arriba atra de mi.
Oh yea ... si ... eso es una colita-cintillo.

Tuvimos ahi bastante tarde en chillin times y no jodimos mucho. Algunos se entretenian con cosas estupidas y otros parece q el alcohol les daba ahi ahi.
El Segundo Dia del Festival Lo Tigre
Empezo chillin con Rosangela,
Manu
y yo en el cine. Vimos "
Must Love Dogs
" ... muy jevi, simple, nice, sweet, no es clavo, pero nada wow either.
Despues jalamos para La Boucherie a comer chill chill ... A eso de las 10 disque a buscar naranjas en el Dragon de Oro.
Jalamos para mi casa a beber
AGRICOLO
. Eso e un shot que consiste en poner Kahlua en tu boca, despues un shot de romo, tragas los dos juntos y chupas una media luna de naranja con azucar crema encima. Es muy bueno, dulce, baja quemaito y da mas duro kerrr diablo!
Que pasa? Bueno ...
Eramos QUINCEE GENTE !
Todo el mundo ahi bebio! No hubieron excepciones! Ahi todo el mundo termino por lo menos happy! Algunos se pusieron malos, otros hyper, otros locos.
Dimas
ligó. Maney y yo hicimos que su hermanito de 13 bebiera. Papi bajo y se dio un shot.
Clo
nos llevo sandwich de pierna a
Vicz
y a mi. Joselo aprendio que se debe comer antes de beber puro alcohol.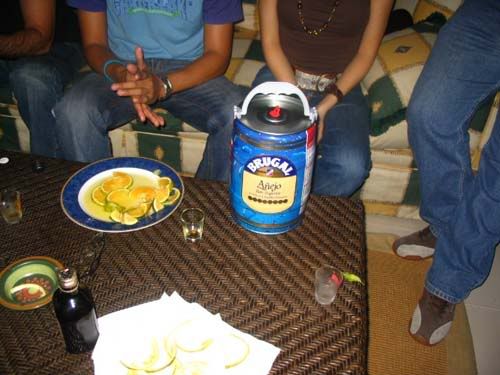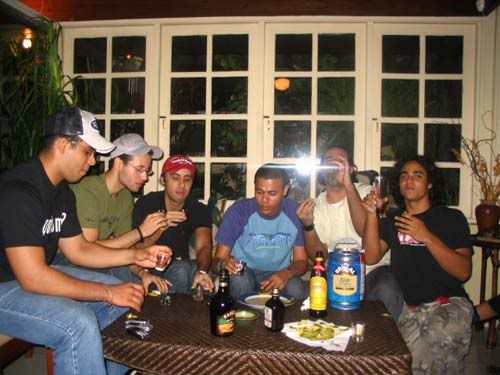 ¿Ahora cuáles fueron las atracciones de esa noche?
Pues yo diría que fueron dos cosas ...

1- Dimas & Lil Clo.

I mean ... They had just met. Honestly. This picture was like 1 minute after they met. Everything else that happened ... well ... you ask him.
...this one was 20 seconds later....

2- The Death and Resurrection of Joselo.

Wow! Joselo beat Jesus! I mean it took Jesus 3 days to come back to life after he died. This boy only had like 6 hours and when his momma called he was alive. He was literally dead.
Tercer Día del Festival Lo Tigre
Este día fue menos activo ... obviously.
Solamente nos juntamos
Manu
, Lety, Eleri,
Vicz
, Joselo, Masiel y yo. Everyone else was dead somewhere. Trying to recuperate. Hating my ass. Believing me when I said "
Conocer A Yorch Es Perjudicial Para La Salud
."
Jalamos para casa de
Vicz
y tuvimos ahi un tiempo chillin sin hacer na grand. Just talking. Cherchando. Jalamos para McDonald's. Me acuerdo que el pana me dijo "
Que usted quiere?
" y yo dije "
2 combo sandwich pollo, 2 combo triple carne, 1 combo doble carne y el MASO E PAPA!
" el pana solamente respondio "
excuseme? perdon?
" y no me dejaron seguir haciendo el pedido!
We ate. We spoke. We chilled.
We all went home early.

Me toco buscar a Maney al
Merenguazo
pero llegue a casa y fue echao al instante.
------------------------
Quotes of the Weekend:
- Gabz -
"
Man, first time I meet you well and come to your house and I'm so drunk
"
- Dimas -
"
Dude! I can't stop speaking English! I can't stop it!
"
- Vicz -
"
So? Eso no e na!
"
[Responding any complaint]
- Manu -
"
uuuhhh vaya festival!
"
- Joselo -
"
Dude ... I am so sorry man
"
- Kiki -
"
Si me pongo los lentes nadie sabra que estoy ajumada.
"
- Paloma -
"
Sí ... el que pitchea Pedro Ramirez... Pedro Ortiz.... Pedro Rodriguez...
"
- Clo -
"
Joselo ... na ma te digo ... si se te para yo no te lo bajo!
"