Contrast to popular belief this will
NOT
be a guide on where are or when is the best time to drink an alcoholic beverage, there is more to life than just that... (Although an occasional drink is not so bad...)
En estos dias me he dado cuenta que la mayoria de las personas piensan que para poder disfrutar hay que hacer algo extravagante, algo fuera de lo comun, algo ALOCAO! ... Yo no pienso tanto asi... for you to enjoy life you need to find with whom...
Y para eso tampoco digo una chica o chico o whatever rocks your boat... sino ALGUIEN...
Hace mucho tiempo yo descubrí que tengo unos mejores amigos que basicamente se han vuelto mis hermanos. Sin ellos,... shit... ninguna jeva y ningun alcohol podría mantenerme feliz...
For years I have loved those guys...
Andrew
(mi hermano de alma),
Vicz
(my fucking role model),
Moreno
(whom I'd love to be like), and
Joel
(a quien veo hasta como mi hermanito - aunque nada mas es por dias que soy mas viejo).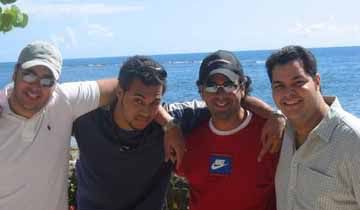 Andrew, Moreno, me, and Vicz

Andrew, Me, Taina, Joselo, Joel, and Vicz
Oye ustedes se imaginan que sería mi mundo sin estas personas? Ustedes en algun momento me han oido hablar o contar algo o decir algo que no se relacione de alguna forma u otra a estas personas?
Yo quisiera y le deseo a todos que puedan encontrar personas asi, con quien uno pueda sentarse y simplemente hablar, con quien de simplemente verlos uno sonrie, con que sus sugerencias valen mas que nada, con los cuales una risa dura una eternidad, que los cuentos nunca se acaban y la diversion viene en un paquete muy simple.
For life to be enjoyable you need to find someone who somehow completes you in a way. Someone who can bring you joy and fun, or maybe just someone who can be there for you when you need them, someone who will listen to you, someone who will ask YOU for help, someone whom you know you will never forget.
Lo mejor es que ultimamentes (couple of months) me he dado cuenta que soy SUMAMENTE dichoso porque tengo MUCHOS amigos mas... Yes... those four ARE the originals, siempre serán los originales... pero existen otros...
These past months I've noticed that I have other people whom I can DARE to call a bestfriend, of course... NEVER to the level of Vicz, Moreno, Joel, and Andrew... never... but still so fucking special that I can tell you that I enjoy spending time with them and simply just talking... people like
James
(somos hermanos gemelos de diferente madres),
Jason
(thought i'd forget ya?),
ManuelJe
(Fefe cabron, somos DEMASIADO iguales ),
El Forest
(fuck yea... drinking is not why i hang out with you it's just to actually TALK to you), and
Joselo
(maldito estudiante vuelto pana FUL)...
joselo, me, jennifer, and forest
Yo con ManuelJe & James
Demetrio, Jason, Me & Cynthia
God knows if there will be more, only God knows if there might be less... But in my heart that's what I see and feel.
Now quizas tu digas que me desvie del tema...
"
How is THIS going to tell me how to enjoy life?
" easy...
find those whom you know will complete you, show you the right way to live and love the simple things in life... you don't need many, you might just need one... but know that in one single true friendship is the key to how to enjoy your life to the fullest... :)